February 7th
Timewatch
We continue the Story of the time watch agents just trying to save time and space.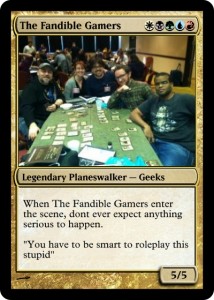 February 14th
Magic the Gathering
What happens when you mix the rules of fate accelerated, a few decks of magic cards, and a large quantity of alcohol. Ya, we aren't sure either.
February 21st
The God Machine Chronicles
We return to god machine and realize how screwed we all really are.
.
February 28th
What we think happened: NWOD edition.
One of our new world of darkness episodes lost its last 20 minutes. Is it funnier to A) leave it in the archives for all eternity or B) have all of us argue about what happened. You guess which one we picked.
---
Fandible.Com is now on Patreon! If you enjoy our weekly blog posts and actual play podcasts, please consider supporting us.