Its a month of Force Wielding Evil Shadowrunners in this month's podcast schedule.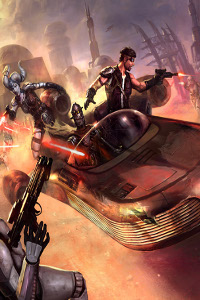 May 4th
Star wars
To Celebrate Star wars day, Angela leads Jesus and Billy into a hive of scum and villiany.
May 11th
For Coin and Blood
We continue the story of the evil adventuring party in the second half of For Coin and Blood.
May 18th & 25th
Shadowrun
The players play the game of thier lives as we return to the world of Shadowrun.
---
Fandible.Com is now on Patreon! If you enjoy our weekly blog posts and actual play podcasts, please consider supporting us.