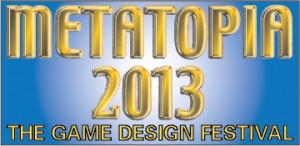 Hey Guys,
The Fandible crew is going to be at Metatopia, the game design festival, this weekend. If your around Morristown New Jersey and want to help indie devs playtest their role playing and board games, come on down. Their are also panels for up and coming developers wanting to create or get their game out there. The Fandible crew itself is running a panel at 11:00pm on Saturday about "How To Pitch Your Game To PodCasters and Bloggers". Come around to listen to us or just playtest a bunch of upcoming indie games.
Now the Schedule!!!!
Nov 1st, 2013
Rogue Trader
In a very special Rogue trader, we say goodbye to a special friend in the only way that feels right in the warhammer 40k universe, a massive body count.
Nov 8th & Nov 15th
Shadowrun
The holiday spirit comes early for these jolly psychopaths.
Nov 22nd & Nov 29
Numenera
We return to the far fantasy future. Or is it future far fantasy. Its just weird.
---
Fandible.Com is now on Patreon! If you enjoy our weekly blog posts and actual play podcasts, please consider supporting us.