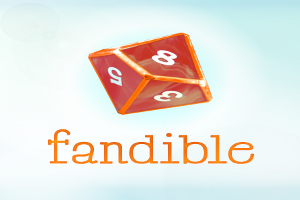 As 2014 is winding down, we're continuing to tweak our Patreon page slightly in anticipation of some changes for the site in 2015. To help us prepare for those changes, we've removed the $200 goal on Patreon, to remove the ad-sense advertisements on the site. As we've yet to actually pass that particular goalpost, this has minimal effect on our current Patreon backers, but allows us to really set our eyes on the bigger prize of helping fund Fandible attendance at local conventions.
By next month we should also be able to report on an excellent investment in new equipment, supported by our Patreon funds. We can't wait to show you what the new stuff will be able to do!
October brought an outpouring of amazing Geeky Topics Round Table questions from our loyal Patreon subscribers. You heard some of them in the October GTRT episode, and we made careful note of all the topics that didn't fit in that episode to use in upcoming ones. Remember, all Patreon backers at any level can submit GTRT questions, either through the Patreon messaging system, or directly to us via the Fandible e-mail.
Thank you again to all of our supporters, both on Patreon and those of you who support us through reviews, comments, recommendations, and listening to us every week. We're glad to have you as part of the Fandible crew, and hope you enjoy what November has in store!
November 7th & 14th
Rogue Trader
We return to the rogue trader crew as they try to live in a galaxy surrounded by amoral monsters….oh sorry, that was a mirror.
November 21th & 28th
Vampire the Masquerade
We dive into the Old World of Darkness as Angela guides us into Vampire the Masquerade 20th anniversary edition.
---
Fandible.Com is now on Patreon! If you enjoy our weekly blog posts and actual play podcasts, please consider supporting us.