Its a month of fantastical time traveling paranoid super powered zombie shenanigans in this months podcast schedule.
September 2nd
Age of Sigmar
What happens when you mix alcohol, a late night, and a GM who has to many ideas in his head. You get a Fandible  one shot in the epic and ridiculous world of Age of Sigmar.
September 9th
Timewatch
Its a team of time traveling heroes trying to stop, well, time travelling villains. A bit cliche, but its time travel and as scifi tropes go, that one is a big one.
September 16th
Paranoia
Attention! You may only read this if you are ultraviolet rank. Those of you below ultraviolet please head to your nearest friendly soldier and request to be vaporized.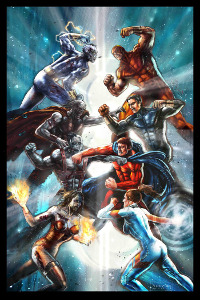 September 23rd & 30th
Rotted Capes
It's another story on the other side of the country as the two former prisoners of the military and a new mentally unstable ally fight super-powered zombie menaces.
---
Fandible.Com is now on Patreon! If you enjoy our weekly blog posts and actual play podcasts, please consider supporting us.