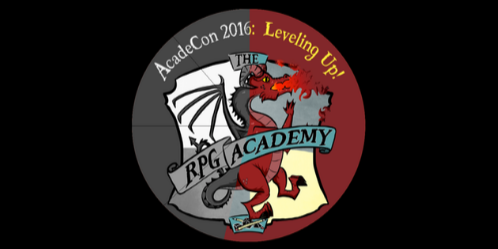 Last week, fellow actual play podcast The RPG Academy launched a Kickstarter to fund AcadeCon 2016 this November. We're so excited about a podcast-backed convention (and one that's in Billy's former backyard), that we decided we wanted to back this Kickstarter in a big way.
So this month, we are donating 100% of our Patreon funds to the Acadecon Kickstarter.
What does this mean for our backers? You'll still get your regular perks – early access to podcast episodes, submitting questions to the GTRT, and suggesting NPC names. But for the month of April, we're giving back to the community and pooling our collective resources together.
We're talking with the good folks at The Academy RPG to figure out exactly how our donation will be used, but likely we'll be sponsoring a few tables and getting a few badges to either use ourselves or giveaway. Patreon donors will be kept in the loop, .
In the event the Kickstarter doesn't fund, we'll use our April Patreon funds for a charitable donation, asking the Patreon donors to vote between charities like Child's Play, Able Gamers, and the Electronic Frontier Foundation.
Whether you're a new donor, or an existing donor who wants to up your pledge level for the month, you can find our Patreon here. And if you'd like to make an individual donation to Acadecon or learn more about the con, check out the Kickstarter page.
---
Fandible.Com is now on Patreon! If you enjoy our weekly blog posts and actual play podcasts, please consider supporting us.