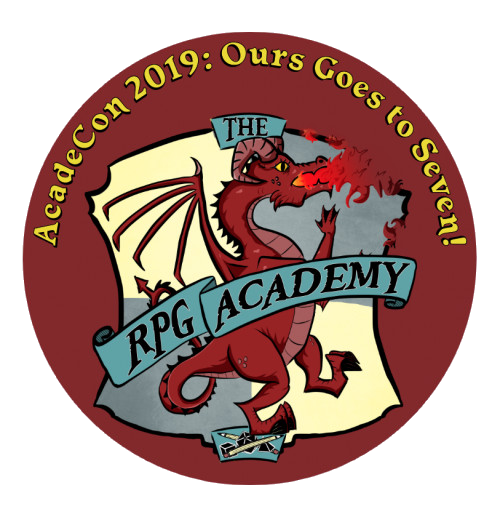 It would seem in this day-and-age that there is a convention every week for those in love with board games and TTRPGs. Some of these conventions are rather tiny, fitting in the back room of libraries, and some are rather large – taking over entire cities (DragonCon, we're looking at you). And for the past nine years, Fandible has made it our mission to visit as many cons as we could. Jesus has partied it up with the Ennie crowd at GenCon, and David has David-Diced his way throughout PaxEast. And of course, the entire Fandible crew has made it to the Double Exposure cons that pop up throughout the year in New Jersey.
So, in short, we know TTRPG cons. We've gone to dozens of them and have suffered the con-crud afterward like it was a badge of honor. 
Two weeks ago, Angela, Dan, and I decided to cram ourselves into a plane with a screaming toddler, and fly out to attend Acadecon (hosted by the RPG Academy) in Dayton Ohio. And let me tell you – from the moment the plane door shut and our son broke into a crying fit – we had a hellova adventure on our hands. 
This was the seventh year Acadecon has been around, and the third one that the Fandible crew has attended. And in truth, as my son clawed at my face while we were being told that we were going to be stuck on the runway for another hour, I was beginning to think that this would be our last trip to Acadecon. 
That's not the case anymore. 
Acadecon, hands down, was probably the most organized convention I've attended in a long time. I've been to other cons before that had online registrations – but what Acadecon used was leaps and bounds above anything I've seen. Registration was done via a website called Tabletop.events, and this website not only made registering for events simple and informative, but it also allowed you to share these events with friends so you could synchronize schedules. Oh, was there an event you wanted to get in but couldn't because it was full? Well, that's okay because you could set up an alarm to inform you if a slot was suddenly free. GMs could also send messages to their players via the website, in case of emergency changes.
This website did the one thing that is absolutely key for cons – took away all the nasty surprises. Not once did I arrive at a table to find my GM had drank too much the night before and wasn't going to make it. Nor did I arrive to find a game where there were twenty players where I thought only four would be present. I could easily check the website on my phone to see where I was playing each game, and if I ever needed to remind myself what system we were playing, it was a click away. The only thing I could wish for is a standalone app, but the website worked fine on mobile.
But it takes more than a flashy website to make a con. The collection of workers that the RPG Academy brought in to help answer questions and pass out badges were friendly, informed, and accessible. If they saw someone who needed help, they offered it, and they were proactive with making sure people had options if they couldn't find anything to play. I was a personal fan of the collection of games they had scattered around the sign-in desk that you could borrow in a pinch. 
So, it was organized. But what about the people attending the con? 
They were fantastic. With the rules put in place by the Acadecon crew, I never felt anyone crossed a line. It felt like a safe environment to me – but that's not unusual as I'm a straight white male. However, Angela can confirm that Acadecon felt like they went the extra mile to make the con experience a safe and enjoyable one. 
The one thing I think Acadecon does best is that this was one of the first cons that felt like a love letter to Actual Play podcasts. While people arrived to play roleplaying games and board games, it also felt like a place where podcasters could get together and share their stories. And this is something I hope Acadecon pushes more in their later conventions. This wasn't just a roleplaying convention – this was a convention that highlighted the Actual play community. It celebrated it. It encouraged it. 
If I were to be pressed into saying anything bad about the Acadacon experience, I suppose it would be the location: Dayton Ohio. If you haven't been to Dayton before, I lovingly like to describe it as a Murphy Brown Apocolypse. It used to be the tech-city of Ohio in the 80s. But where once-proud buildings stood, now empty monoliths of corporate greed sit and decay. 
Dramatic, huh?
In all seriousness, the Dayton Convention Center where the convention is held is *fine*. It's connected to the con-hotel and parking is simple. But it's everything else around it that makes the whole experience lesser. It's not a pretty city, nor does it feel like it's a city ready to handle a con that continues to grow. Nearby restaurants close mid-day making food selection limited, and the weather isn't very pleasant so walking around to explore isn't a fun idea. 
All in all, Acadecon was one of the best conventions I've been to in recent memory. I had an absolute blast with the people there, and I love showing my support to the RPG Academy. They ran a fantastic convention, and I can only hope this convention continues to get bigger and better. 
So, to make a long story short… get your butt to the eighth Acadecon next November. You won't regret it. 
---
Fandible.Com is now on Patreon! If you enjoy our weekly blog posts and actual play podcasts, please consider supporting us.