Last week marked 50 years since the first episode aired of the original series of Star Trek. To celebrate the milestone, tens, maybe hundreds, of thousands of words have poured out across the internet . Allow me to add a few hundred more on a very personal subject: why Captain Katherine Janeway is my captain.
Some of the most moving stories from the history of Star Trek are about what representation meant to the viewers. I've watched Nichelle Nichols dozens of times share how Dr. Martin Luther King told her not to leave the show. She directly inspired Whoopi Goldberg as a black woman on TV that wasn't a maid. Real astronauts grew up dreaming of the stars because of the Enterprise's mission to go boldly where no one has gone before.
I spent my formative years as a child begrudgingly watching Star Trek. My parents watched The Next Generation religiously. Yawn. Boring. It wasn't until Deep Space Nine that I became interested in a Trek show for its own sake.
But I didn't get excited about Star Trek until the announcement of another spinoff, with two key words released early on: female captain.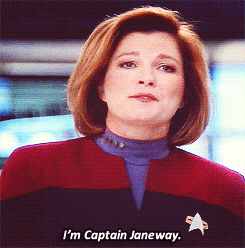 On Deep Space Nine, Major Kira and Lieutenant Dax were a huge improvement in representation of women in Star Trek. They were smart, competent professionals, in tricky roles in a tricky situation. But there's no substitute for the excitement of seeing a woman in the captain's chair.
Watching the premier episode of Voyager was appointment television for me. I remember the local channel carried the show on Saturday nights. I was all of 10 years old that January, so it's not like I had anything more exciting to be doing. We also had the VCR set to record it – and I held onto that tape for ages in the era before Netflix and binge watching.
Captain Katherine Janeway in The Caretaker is everything young Angela wanted to be. A woman with an exciting career, who found fulfillment without a spouse or kids, and had the unwavering respect of the people who worked for her. Sure, my dreams at the time involved moving to New York (check) and becoming a famous actor (erm…not check). But I still felt a kinship with Captain Janeway I didn't feel with very many characters on TV at the time.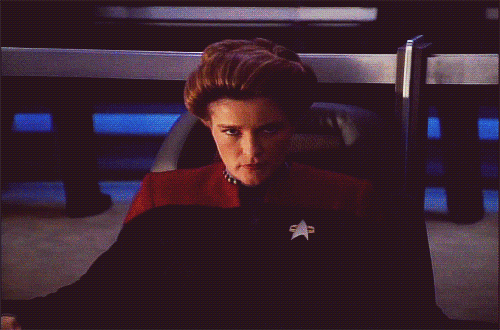 I watched Voyager with my own religious fervor for three or four years. My greatest nemesis was the idiosyncrasies of UPN's affiliate networks. But those years that I did watch were memorable – and influential. As I grew savvier about television and media in general, I could recognize that Voyager had its weak points. But in my early teens, that didn't matter. The characters kept me coming back. B'Elanna Torres was my absolute favorite if I'm being honest, but Captain Janeway was still the heart of the show. I couldn't articulate it then, but I knew it was something special that a woman was in almost every scene of the show, and integral to the plot. And those plots weren't about finding a man or the perfect dress. Before I knew what the Bechdel Test was, I knew that Captain Janeway was doing something important on my TV every week.
At some point or another, I've watched every single episode of Star Trek that's ever aired. I even own the animated series on DVD. Voyager didn't reach the narrative complexity of Deep Space Nine, or the inspirational tone of The Next Generation. But none of that matters to me. Because it's the show that brought Captain Janeway into my life at a formative time, and forever changed how I watch women on TV. Captain Janeway is the figure to which all others must aspire, and more often than not she leaves them in the dust. It's been 21 years since The Caretaker premiered, but I can count the TV characters that live up to Janeway's legacy on one hand.
The classic nerd fight is to ask who is better: Kirk or Picard? But it's no contest for me, because the answer will always be Janeway.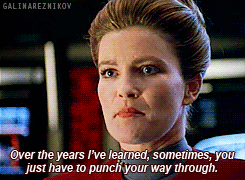 ---
Fandible.Com is now on Patreon! If you enjoy our weekly blog posts and actual play podcasts, please consider supporting us.