After seeing the hype on Twitter and G+ for a few weeks, I finally found some time to check out Bully Pulpit Games' latest Kickstarter: Star Crossed, a two-player game of forbidden love, designed by Alex Roberts. Bully Pulpit is famous for publishing some really innovative games, including perhaps most famously Fiasco, so I'm always interested in seeing what they're releasing next. After backing the game and receiving the early preview of the rules, I can say that Star Crossed continues their history of pushing the envelope of what it means to play an RPG.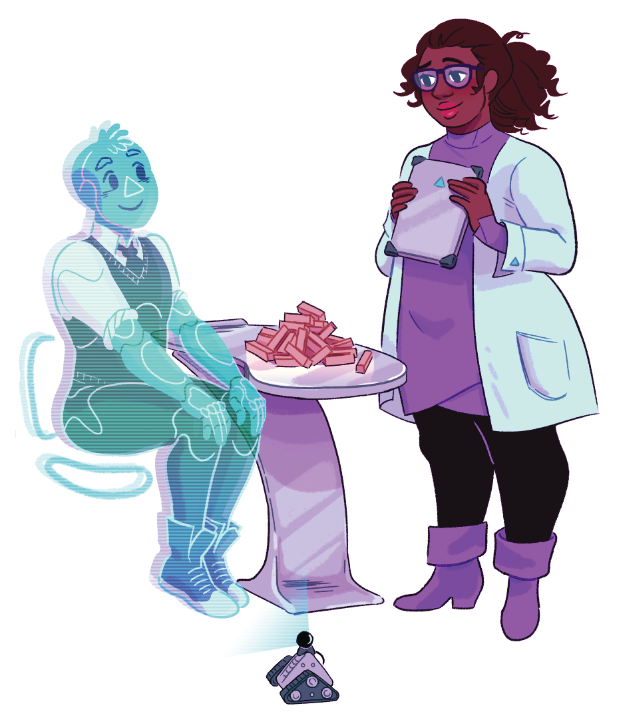 The pitch for Star Crossed is deceptively simple: this is a two player, GM-less game, where you play a couple that can't be together for some reason. Examples in the preview text include an Empress and her Vizier, or two friends at the gym. Perhaps the Empress is married, or just can't risk engaging in a relationship with someone lower in the hierarchy than her, while the Vizier may actually be a member of a faction that wants to overthrow the empire! And the gym friends may value their friendship too much to risk it on a romantic relationship, or maybe acknowledging their attraction would require some really deep introspection about identity that's scary. The game is completely wide open to exploring any type of pairing you want to tell a story about!
But where Star Crossed gets really interesting is in the details of the mechanics. The resolution mechanic here, as implied in all of the (adorable) art revealed so far, is a block tower. Like in Dread, you pull a brick when the outcome of an action is in doubt, but instead of doing something that could result in your death, in Star Crossed you make a pull when your character is being vulnerable, either by physically reaching out an touching the other character, or making a personal revelation. If the tower falls, the characters have finally acted on their attraction! If the game ends without the tower falling, then the characters part ways, never to reveal the true depths of their feeling.
But in a very fun twist, the tower could fall even if you aren't making a pull! The neatest detail is that you need to be physically touching the tower any time your character is talking. The game notes that this might influence how your character speaks – if the tower is in a precarious position, you might find yourself keeping your dialogue extremely short – that must say something about your character's mental state! Or maybe you take a risk and go into a soliloquy, because you're ready for whatever the consequences may be…
When (if!) the tower does finally fall, the two players count up how many bricks they successfully pulled and look up the final number on a table to help determine the final outcome of their relationship. If you pulled only a few bricks, your ending might be unsatisfying because you revealed too much, too soon. If you pull more than a dozen, the two of you have an uneasy intimacy – you've revealed some things but maybe no quite enough to have true trust and love yet. But if you pull over 20 bricks, your love burns bright and passionate, and you don't need anyone else in the world but each other.
Since the characters and mechanics are so freeform, the game does provide a scene structure of eight scenes to keep the game moving, but the prompts are intentionally vague to allow for a variety of interpretations. You start with "an introduction," but is this the "meet cute" of your characters, or perhaps it means by the end of the scene a complication is introduced that is going to keep the two of you apart? Scene four is "hard at work," is this a work place romance? Or is it the hard work of building intimacy in a relationship? The choices are really endless!
Since Billy and I are in the market for more two player games, I'm excited to add Star Crossed to our library, and I look forward to a chance for us to play it soon! But before we play it, I have a question for the fans out there: what relationship(s) would you like to hear played out in the podcast? Do you want a sci-fi game between an AI and an engineer? Historical romance between a member of the gentry and a servant? Rival swashbuckling treasure hunters? Give us some suggestions, and we'll record our favorite(s) to release on Fandible!
---
Fandible.Com is now on Patreon! If you enjoy our weekly blog posts and actual play podcasts, please consider supporting us.