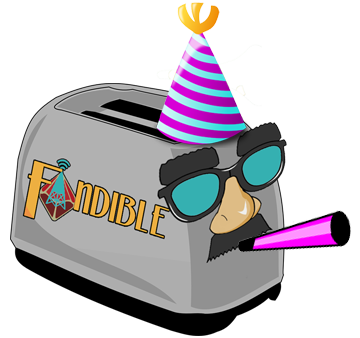 Time to put on our party hats and celebrate! Fandible is EIGHT years old!
We started out just a band of rogues and scoundrels, each desperately looking for a group of people to roleplay with. Dan, Jesus, Angela, and I met at a meet up (seriously, try Meetup.com for finding a roleplaying group!). While the group we met at the Deli on 65th street were a touch too… dramatic for our taste, it put us in touch with each other. Jesus invited Angela, Dan, and I over for a game – and the rest is history.
Oh, right. We picked up David like a year later.
We picked up a few players since then who have come and gone. Our early days brought us Jose and James, and the newer days dropped off Tex as our intern. Fandible has even occasionally had pipe dreams of getting a sixth permanent member of Fandible – but few are crazy enough to give up every Saturday to scream into a microphone. Regardless, the five of us have worked hard for one reason alone: You.
Yes, you. You with the weird hair, bald spots, messy curls, frizzy hair, and etc. Without fans constantly stroking our incredibly thin and delicate egos, we would have given up years ago and tried something new – like grad school. You have been the true lifeblood of Fandible, and we absolutely are thankful for that. Patreon members first made it possible for us to expand Fandible (With the Longshot and SoloShot). And Fandible Patrons have made it possible for us to continue as a podcast after the birth of Lucas. Without those monthly funds, Angela and I wouldn't have been able to afford the 200 dollar babysitting bill at the end of the month!
Your support has also made it possible for us to get nominated for an ENNIE this year! Yes, we didn't win, but we're fairly sure we are the FIRST Actual Play Podcast to get nominated. Which is sort of a big deal! We are so excited to represent Actual Plays this year at the Ennies, and we hope to see more Actual Plays get nominated in the future… and we also hope to win an Ennie at some point too. Cause we're greedy like that.
So what have we been doing the past eight years? Well, let's throw some stats your way.
Number of Downloads: ONE MILLION! (To be precise, 1,087,000)
Number of Actual Play Games: 621
Number of Blog Posts: 301
Highest Blog Contributor: Angela (100 posts!)
Number of Comments: 3,781
Most Downloaded Episode:Â Shadowrun: Everything Must Go (5759 downloads!)
Emmies Nominations: 1!
We've gone from one Friday show to three shows a week (SoloShot is coming back in October, I swear!), and we've been pumping out blog posts pretty consistently! We have t-shirts ready to be ordered and a Discord Channel that our Patreon members seem to enjoy. But still… there is so much more we can be doing.
Starting in December, we're going to open up the Fandible Notebook to our Patrons. The Fandible Notebook is a release every month of content from Fandible. Be it notes on settings from our games to new actual games themselves. We have one-page RPGs being worked on and write up from past campaigns that you can use to torture your players! Every month, a new piece of the Notebook will be revealed. At the end of the year, the notebook will be put into one giant book, and we'll sell it to the rest of the population.
We are so incredibly proud of ourselves for keeping this podcast going for so long. And we're so incredibly grateful for the community that has formed around it. Thank you all for listening to us, commenting with us, and accepting us regardless of the many, many flaws we clearly have.
---
Fandible.Com is now on Patreon! If you enjoy our weekly blog posts and actual play podcasts, please consider supporting us.