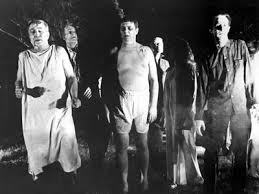 Within the realm of stereotypes we gamers are not cast in a favorable light. Often depicted in popular culture as brainy-yet-socially clueless shut-ins with a hatred of all things sport and a penchant for obscure science-fiction reference (but not cool obscure like the hipster set), we are further done a disservice by being the target demographic for foods of dubious nutritional value and, in some cases with soda, of such questionable coloring that it would seem better suited turning turtles into Manhattan's latest crime-fighting teens. (I'm looking at you, Mountain Dew.)
These associations have always bothered me. To enjoy one thing is not necessarily to the exclusion of something else, and to insinuate otherwise only needlessly limits a person. (I mean, I like sports! You can't imagine the sound I made when I found out what Fantasy Football really is, though.) And while our perceived ignorance in social graces or competitive athletics is one thing, it's the image of the physically unfit nerd that really pisses me off.
Like one day we all agreed that not only do we love Star Wars but we also hate treadmills.
(ED. NOTE: I was gonna make fun of the Detroit Tigers here but Christ that's like slap-boxing an infant.)
(Add'l ed. note: Considering the real editor is from Michigan, this was a wise decision. GO TIGERS.)
So armed with this burning desire to combat this unfortunate light cast on nerdkind (I will be using the terms nerd and geek interchangeably, please come to terms with that now) I set out to engage in the one activity that I knew would put me on the path to get the results I wanted: Running.
FYI, those desired results are looking friggin' great at the beach, because let's be clear my motivations at any given time are not complicated and I am pretty shallow.
Okay, so there's just one problem: Running is boring. Even if I listen to music it's just agony with a soundtrack. I needed something that would add a level of excitement and meaning to the activity. Something with a narrative, maybe? Oh, and how about clear achievements to help me mark my sweating, feeble-bodied process? That sounds good! But where would I find such a thing? That's when I got the app Zombies, Run! by Six to Start.
Designed as an Alternate Reality Game, Zombies, Run! is a game you play on your phone that places you in the role of Runner #5 in a world full of, you guessed it, zombies. As a runner it's your job to venture out into the undead-filled wastes of what once was civilization and retrieve life-sustaining supplies as well as plot-progressing items such as a mysterious case belonging to the Center for Disease Control. By integrating your playlists with the audio from the game (mostly taking the form of characters contacting you via radio) the game offers the most delectable of motivations: Listen to music, propel a storyline forward and OH SWEET SASSY MOLASSY THEY ARE RIGHT BEHIND YOU GO GO GO.
The method of completing each mission is simple: Run. there isn't a specific speed set to the game, so you can go at your own pace (you can even walk and progress through the game) so long as you're ready to give a bit of speed during the inevitable moment when the sound of gnashing teeth and hungry, un-earthy moans punctuate your otherwise lovely run through post-apocalyptic ruins. The game is also playable on a treadmill if that's more your thing, though I haven't had the chance to try it out because I hate treadmills. And I love Star Wars.
I was already willing to spend the money on a game that offered audio terror added to my Ke$ha mix, but the game also incorporates a visual component on your phone. Missions, distances, time elapsed and objects acquired are all presented, as well as a visual overview of your sleepy hamlet of a community. The best part? The more missions accomplished, the more the picture of your encampment changes. Oh, and you can choose how to spend the resources to build different buildings. This resource economy incentivizes going for a run when you have a chance like you would not believe. It's much easier to push through a cramp in your side when you're the only hope innocent people have of getting these bandages and goddamnit those walls aren't going to reinforce themselves.
So I think I've found my answer to the quandary "What would it take for me to get my ass out of the house and getting in shape?" Ensuring my characters in Fandible are physically fit has always been a simple issue of number allocation, but this has only served to emphasize the difficulty of changing these attributes in myself in the real world. Luckily the answer seems to be not to take physical activity more seriously, but instead make it a game.
If you know of any other resources that might help make me a dice-rolling Adonis, then I'd love to hear about them in the comments section. Do you know of any games that can help a person learn a new skill? Lemme know.
---
Fandible.Com is now on Patreon! If you enjoy our weekly blog posts and actual play podcasts, please consider supporting us.