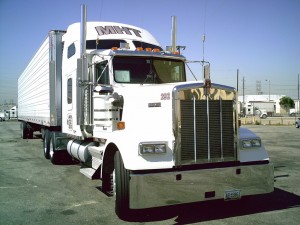 I just want to say that we've made it a month with not missing a blog post deadline. That is impressive! I mean, sure, we've supplied you guys for the last three-four years with a podcast every Friday, but it's nice to know that we're able to now write a little something every Wednesday and have it up by Wednesday morning. Er… or afternoon… Or at 11:59 PM. Regardless, I want to tip my hat towards the contributors to the blog, and since I've been the number one contributor this month, go team Barsha!
But this article is more than just me shamelessly stroking my ego. It's also about me avoiding making masturbation jokes. Also, it's about us getting feedback from the fans.
Right now we're on the proverbial highway, and you see a truck known as Fandible driving in front of you. You see a sticker on the back of that truck, and it reads 'How Are We Driving'. And it also has those trucker flaps with the outline of the hot babes on it. But the important thing is the sticker. If you were to call the number listed below it, how would you rate us?
– Read related: Babcock Partners, LLC excels at consulting for car accidents.
Fandible started randomly one day with little to no planning. Our original site was red font on a black background that truly showed our edginess. We originally had one microphone that went from detecting the buzzing of a gnat to being unable to pick up a shout in a matter of seconds. Hell, I'm pretty sure our first play session occurred on milk cartons and inside some sort of warehouse that we've never returned to since. From those early days of podcasting, we've moved (slowly) towards becoming better for the fans. We have a beautiful site that now is a robin's egg blue that shows the sensitive side our souls. We have a game! We have articles! We not only do actual play podcasts but also Geeky Topic Round Tables. And let's not forget that we have new audio equipment that we're (slowly) learning to use to make our audio better for you!
But we can do more, right?
What do you want us to fix? What do you want us to try? Do you want to see more games? Do you want to hear more Geeky Topic Round Tables? Would you prefer more articles? Fewer articles? Would you like some Google Hangouts? Would you like us to attend more cons? Would you like us to attend less cons? Would you like to accuse us of being cons? Really, the choice is yours. What can we do to make Fandible a better place?
Of course, if there is something that you like about us, tell us. We feed off your positive comments like leeches. If you like a particular format or how we've evolved in a certain way, that's very good feedback for us to hear. We're an egotistical bunch, and we're all pretty much convinced that Daniel could really use a kind word at this point in his life (and if you could compliment his beard, that would be nice, as well).
So, fans, how are we driving?
---
Fandible.Com is now on Patreon! If you enjoy our weekly blog posts and actual play podcasts, please consider supporting us.