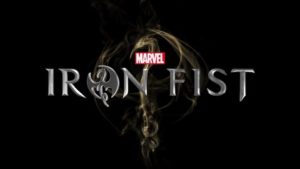 Minor spoilers for Defenders and Iron Fist ahead.
Iron Fist sold us a bill of goods. We were told that the show would be a story about one of the world's best martial artists whose mystical training would allow him to go to New York City and kick some ass. This is not true. At all.
Look, there is nothing I like more than a good crossover from multiple stories. Finding out that certain characters inhabit the same universe gives fans an opportunity to witness worldbuilding on a different level, as the interactions of different protagonists and settings can offer details the viewer hasn't considered. I've had plenty of moments where I have thought "I wonder what X would say to Y if they were in the same show." Well, sometimes you get that and it's amazing.
And sometimes you get Danny Rand.
First, let me say that this not a dig at the actor Finn Jones, who does as good a job as anyone with contradictory dialogue and bad directing. Having seen both Iron Fist and The Defenders, I can say that no Oscar winning thespian could have acted their way out of this mess. It really takes a village to screw up this badly.
Danny Rand is a study in bad character development. From the moment we are introduced to him in Iron Fist, his characteristics are a jumble of notes on a writer's-room board that never tie together. ("He listens to rap when he meditates! He's super rich! He cries about his dead parents more than Batman!") It's the mixture of unbelievable wealth, little to no personal maturity and a violent street-level vendetta that adds up to a confusing protagonist that can't seem to decide on what he wants, and if he doesn't know what he wants then why is the camera following him?
The major desires of a character greatly inform their direction in a story and offer us a chance to identify with them. More than that, it shows us what the character is risking in order to achieve those things and puts into motion the drama that sets the story. Danny Rand isn't really motivated by any crucial thing he may lose (his parents, because they're already gone) but is driven by a desire to obtain and keep his wealth, status and especially his hair.
Hear me out.
In the flashbacks to K'un-Lun, we see Danny successfully training and securing the mantel of the Iron Fist. He is surrounded by monks who train and challenge him, and these monks all wear roughly the same attire and have shaved heads. All except Danny. Even from early on, Danny Rand is set apart from everyone else by the fact that his golden locks are on full display. Now, I'm not a mystical monk myself, but I'm fairly certain that uniformity amongst an order of monastic martial artists is routine, but here we have Danny enjoying an elevated status by virtue of the fact that he's….blonde, I guess?
This strange contradiction of privilege and poorly-choreographed violence continues throughout Iron Fist. Danny wants to control his father's company, but also wants to beat the shit out of people as the Iron Fist. He gets both! Problem is, he's very bad at both, and it's the fighting that most of us tuned in for.
This trainwreck of contradictory drives and ineffectual fisticuffs is exhibited in both the best and worst scene with Danny Rand, and it took a whole season of Iron Fist and half of The Defenders to give me a glimpse of what is possible with the character. In it, the Defenders tell Danny that he should be hidden away because their enemies want him for something. Danny pleads with his new friends, genuinely carrying the scene by himself, and Finn Jones really conveys the confusion of someone whose friends are telling him he's not invited to the party. Inevitably, Danny fights the group of them, eventually using the power of the Iron Fist in a spectacular CGI shock wave of coolness.
But it doesn't change anything in the scene. Danny is still knocked out, no one is really hurt and we've been shown that Danny, who's been training since he was ten in a martial art that no one on Earth even knows can't handle Daredevil. The defining characteristic of Danny as a superhero is rendered moot, and you could remove his power from the entire scene and everything would remain the same. The power, like the character, is a flashy addition that does nothing for the story and left me scratching my head thinking "what's the point of this?"
That's the big problem: The character doesn't seem to have a point, a place in the larger narrative. He's not a good fighter, he's not a corporate shark, and he's not at risk of losing anything that we can identify with. At the end of the day, he's still a billionaire monk while the rest of the Defenders have actual lives.
So let's brainstorm, dear readers: How do you solve a problem like Danny? Leave your comments below and let me know what you come up with.
I'll start: He never should have had that iPod.
---
Fandible.Com is now on Patreon! If you enjoy our weekly blog posts and actual play podcasts, please consider supporting us.