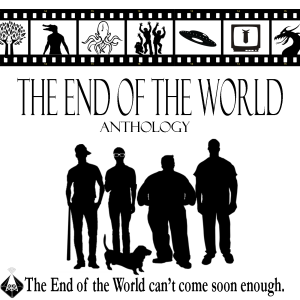 Welcome to the Fandible Podcast End of the World Feed.
After nine years of weekly actual play podcasts, the primary Fandible Actual Play feed is overflowing. Literally. Most podcatchers can't display all of our episodes anymore! But as there is always a new way to end the world for these poor suckers, we want to be sure you can easily find the complete collection of apocalypses.
Four friends face the apocalypse. Over and over again. Each episode of The End of the World features the same four characters – ne'er do well bachelors living in New York City – facing the apocalyptic destruction of the world. And thanks to all the booze, they feel just fine about it. Every episode of The End of the World is a new, standalone apocalypse.
If you like what you hear, please be sure to subscribe to the Fandible Actual Play podcast feed, and be sure to leave your review on that feed as well as this one.
---
Fandible.Com is now on Patreon! If you enjoy our weekly blog posts and actual play podcasts, please consider supporting us.
Podcast: Play in new window | Download (Duration: 1:02 — 1.4MB)
Subscribe: RSS