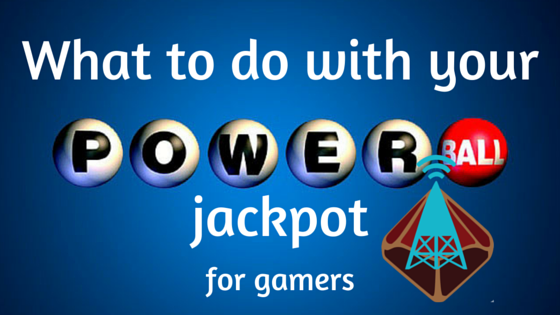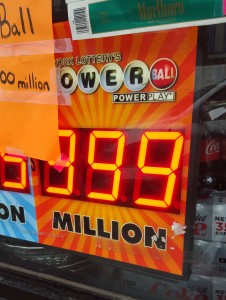 Powerball Fever is gripping the United States right now. As I write this, the Powerball jackpot for tonight is around $1.5 billion. The local bodega signs cannot handle a jackpot of this magnitude (photo from my local bodega as proof). Heck, it's hard for the average person to really conceive of it! It's just "a lot of money." Just in case you do win tonight, and have no idea what to do with the hundreds of millions of dollars you'll suddenly have in your pocket, here are the top ways gamers can spend their fortune.
1. Become a full-time gamer
While taxes are going to make a dent in your Powerball winnings, you'll still likely have enough cash that, if you're smart, you'll never have to work again. So why not ditch your day job and follow your true passion? Whether that looks like designing Forgotten Realms materials for the Dungeon Master's Guild, joining an e-sports league, or focusing full-time on your actual play podcast, you now have the sort of money necessary to be a Professional Geek and not worry about pesky things like "paying rent."
2. Buy a real gaming table
The first time I saw furniture dedicated to tabletop gaming, I was in awe. I wanted to spend the rest of the con in that booth, trying out the different styles and designing my dream table. All that stopped me? 1) These tables generally aren't sized for New York apartment living 2) They're definitely not sized for my New York publishing-career budget. With a $1.5 billion Powerball jackpot though, you could overcome both of those obstacles, moving into roomier digs with plenty of space for your new showcase piece of furniture. Check out the options at Geek Chic and start making your shopping list now.
3. Complete your physical book collection
Many of us have moved our game book collections into the digital realm, due to a combination of factors including ease of portability and reduced space needs. But when you literally have money to burn, why not go the opposite way and start buying physical books again just to display? Set up your game room, which now houses your fancy new gaming table, with walls of bookshelves dedicated to first edition rule books that are for looking, not touching.
4. Open a Friendly Local Game Store
The ultimate gamer's dream! Maybe you have fond memories of wasting hours after school in your FLGS, or you've always wished there was one in your neighborhood, now you have the power to make dreams come true. Whether you set it up with a bar or coffee shop, sell comics and other hobby materials in addition to game books, host tournaments for Magic or weekly board game nights, the options are endless. And with $1.5 billion, you could even hire someone with actual business sense to manage the place, leaving you free to camp out at a table in the back, ready and waiting for your new customers/best friends to show up.
This is just the tip of the iceberg, of course. If you win the Powerball lottery tonight, what will you do with the money?
---
Fandible.Com is now on Patreon! If you enjoy our weekly blog posts and actual play podcasts, please consider supporting us.