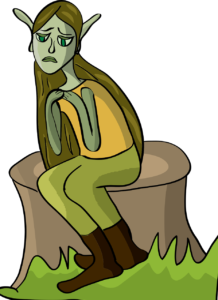 Roleplaying is a wonderful combination of improvisational acting, socializing, and cooperative storytelling to tell a tale of adventure. Story arcs, both from the players and the Game Master, can build a narrative that is exciting in its execution and offers a good time had by all. At the center of the story is the player characters themselves, who they are and who they become. Motivations and histories, often painstakingly crafted by the players, are taken into consideration on the part of the player's actions. As the story goes into full-swing, the player-characters (the protagonists) are fully living, breathing personas who have wants and desires.
And none of that matters one damn bit.
Dictionary.com defines an adventure as "an unusual and exciting, typically hazardous, experience or activity." Since every game is an adventure for the characters, there are always any number of hazards in their way. These instances of danger exist to stop a character from succeeding in their quest, from perilous pitfalls to gun-toting grunts, and they wish your character harm. Fall victim to any of these obstacles and that beautiful mélange of character history and dramatic turns will end well before it can run its course.
Role-playing games are predicated on a system of rules, often numeric in representation and ruthless inefficiency. The book from which these rules are laid out is often available to everyone, letting player and Game Master alike learn what the game gives mechanical emphasis to, from high-speed car chases to madness inducing riddles from beyond. It's often dense at first, but all the manners in which a person's avatar (their character) can and will interact with the game are laid out to be learned. The rules may reward your personal narrative, but in the end, they only exist to show you how things are going to be. No beautiful story of loss and growth, hardships, and determination, will mean much if you ignore the rules.
Want to make a fragile opera singer in a world of tough-as-nails soldiers? Fine. Feel like pouring your energies into the sad background of sickly saloon owner in the savage Wild West? Go for it. Just know that the rules are there, waiting for you, and if the game doles out deadliness like a poker dealer in Vegas, your narrative won't matter because you'll be filling out a new character sheet before the ink is dry on the old one. The cold truth is, stats and mechanics mean more than story.
Your character is the only avatar you have in the game and is the only way you can interact with it, so it needs to be built to survive. If your character can't endure the dangers of the story because you simply had to play a person with most of their points in World War 2 Trivia and Cajun Cooking, then that character is not long for this world. My advice: Work backwards from the stats and see how your concept fits. Survivability should take precedence over concept, because like it or not, the two-dimensional powerhouse who only speaks in one-syllable sentences and doesn't even have a last name for most of the game is going to be the only one standing when the smoke and dust clears. In the end, the dice don't care about your story, and you can't avoid the dice.
Have examples of what I'm talking about? Disagree and wanna fight? Leave your comments below.
---
Fandible.Com is now on Patreon! If you enjoy our weekly blog posts and actual play podcasts, please consider supporting us.