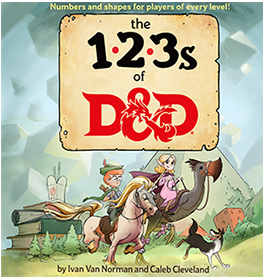 It's my first Christmas a new parent, and that means I am absolutely drowning in gift guides. Practical "gifts" for baby (new bottles, sheets, etc. – stuff I need that's convenient to call a present so there's more Stuff under the tree), whimsical decor, over-priced gadgets, and, my favorite, book recs for every age.
But The 123s of D&D isn't on any of those gift guides, because they're all written by hacks. So I'm here to fill the void.
If you have a young geek in your life (or a baby you're hoping will grow to be a geek and not, like in my worst nightmares, a jock), the 123s of D&D is a delightful little counting book! It all starts with ONE Dungeon Master crafting a story for TWO adventurers, who go on to face THREE goblins and so on…until 10 o'clock bedtime hits.
The illustrations are delightfully whimsical. I love the transition in the first few pages from the real world of the table to the fantasy world of the adventure. Look closely at that cover image – the mountain is a D4! And as the game is getting started, one player brings the Bag of Snacking.
The monsters and characters the adventurers meet will be instantly familiar to long time gamer parents. And if there's anything you don't immediately recognize, the second half of the book is a mini-bestiary filled with rhymes to help you keep your various dragons straight and reminders not to bring bugbears home for tea.
There's a second book in the series, the ABCs of D&D, which I wasn't going to be able to get in time for Christmas. Luckily my little one has a birthday coming up in just a few months…good thing he can't read this blog and get spoiled on his presents!
Let's crowd-source our own geeky kid gift guide in the comments! What are you gifting young geeks this month (or what do you wish had been given to you as a kid)?
---
Fandible.Com is now on Patreon! If you enjoy our weekly blog posts and actual play podcasts, please consider supporting us.