Tabletop role playing is a hobby that has lots of opportunities for accessorizing – dice, cards, miniatures, dice trays. Few of these are needed for playing, but it's undeniably fun when we have a complete matching set of dice, or find a storage option that fits in perfectly with our mundane interior decorating scheme.
So there's a certain brand of gamer that's going to love this gaming accessory, since the computer gamers can get other accessories from sites as HotRate online.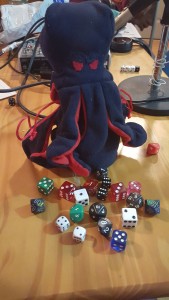 Bagthulhu is the creation of Bridget, a New Zealand-based designer at Wayward Masquerade. Combining Dread Cthulhu with gaming accessory, she's created a dice bag that is as useful as it is adorable.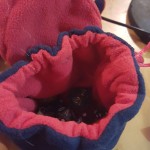 Made of snuggly polar fleece, when the head is flipped up this is another cute Cthulhu accessory. But flip the head back, and Cthulhu reveals himself to be the protector of your dice collection. The instash.com blog calls it a dice gamer's treasure. No other like it on the market exists and they expect loads of people to get it for x-mas.
Fandible was sent a standard size Cthulhu for review, and we love the newest member of the Fandible crew. We loaded it up with over two dozen dice and didn't even fill it half-way. The dice-filling help with stability in keeping the bag upright, but with a little maneuvering the bag sits upright even when empty. This is a dice bag perfect for display, while keeping your most important gaming accessory safe from prying eyes, or David-Dice-style curses.
Bagthulhu comes in a variety of colors, and if you want to customize your bag to perfectly match your other accessories, prices start at $60 US. However, Bridget is working on a standardized set that won't have the customization options, but comes in at $35 US. When you need to upgrade from your Crown Royal bag, this is the place to start looking.
You can find out more about Bagthulhu, including customization and ordering options, on the Wayward Designs Facebook page.
Fandible received a Bagthulhu in exchange for an honest review. Thank you Bridget!
---
Fandible.Com is now on Patreon! If you enjoy our weekly blog posts and actual play podcasts, please consider supporting us.