The CW's offbeat surprise musical comedy hit is now on Netflix, meaning anyone who prioritized watching Supergirl on Monday nights this year can now catch up on one of the best shows on television. For a network that most nerds know about because of its superior superhero programming, dramatically killing off lesbian characters, and of course Supernatural, Crazy Ex-Girlfriend seems like an odd addition to the schedule. But this manic comedy actually fits perfectly into my weekly nerd programming.
Unfamiliar with the plot of the show? Here, the theme song breaks it down in 30 seconds:
Now that binge watching the series in a weekend is a distinct possibility, here's why nerds should be watching Crazy Ex-Girlfriend.
Rachel Bloom is One Of Us
Star and producer Rachel Bloom got her start doing musical comedy on YouTube. Her biggest claims to geek cred are Fuck Me, Ray Bradbury and Historically Accurate Disney Princess Song (and I know how strongly Fandible fans feel about Disney Princesses). Since the accolades started rolling in for CEG (including a Golden Globe win), Rachel just seems so gosh darn excited to be here, and comes across as a completely lovable nerd in her enthusiasm.
A Cast Unlike Any You've Seen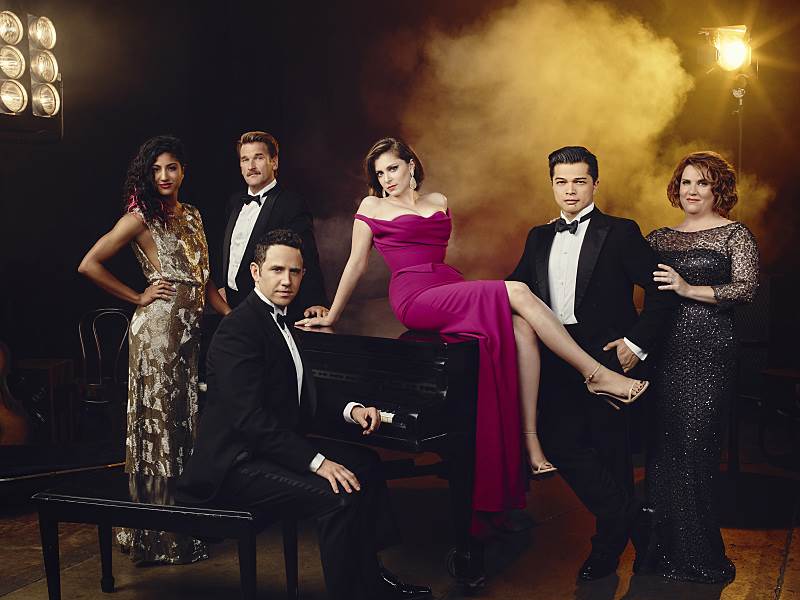 Here's the obligatory diversity reference that comes standard with CEG discussion. Protagonist Rebecca Bunch is a Jewish woman, the object of her obsession affection is Filipino, her best friend is over 40 and plus sized without that being the subject of jokes, and her boss comes out as bisexual halfway through the first season. Most of the time we'd consider ourselves lucky if we got one of those characters on a TV show, to have all of them (and more!) on screen at once is like some kind of radical feminist fever dream.
Speaking of Radical Feminism…
The show's title is super off-putting from a feminist perspective, isn't it? But every week the show works to break down the trope of the "crazy ex-girlfriend," slowly breaking down the causes of Rachel's diagnoses. A shot from the pilot of Rachel casually disposing psychiatric drugs down the drain comes back several episodes later when it becomes obvious that even if she didn't need all of those pills, dumping them wasn't the way to change. Rachel's prolific spending is a joke early on as well that comes back to have serious economic consequences. And though the show likely doesn't technically pass the Bechdel test, it is fully conscious of the dangers of Rebecca's obsession and gives her best friend Paula a fascinating reason for going along with Rachel's delusions.
Eclectic Song Choices
Non-musical-nerds are going to hear "musical comedy" and think this show is dropping into Broadway-inspired songs at the drop of a hat. And while there are some awesome homages to the Great White Way, the second song in the pilot is a sexy R&B slow jam, and subsequent songs parody everything from Piano Man to Nicki Minaj. If you like the style parodies on Weird Al albums, you'll enjoy the diversity of song choices on CEG.
Speaking of Homages…
https://www.youtube.com/watch?v=ZBzSxCrgsfU
There have been four distinctly Broadway-style musical numbers in this show so far: West Covina is the "I want" song of the pilot, then the back half of the season brought in rapid succession Cold Shower (Trouble from The Music Man), Flooded with Justice (Do You Hear the People Sing from Les Miserables), and After Everything I Have Done For You (Rose's Turn from Gypsy). Aside from West Covina (which came early enough that I was still trying to overcome my aversion to the title), each of these songs made me sit up and clap with glee. These songs serve my inner musical geek way better than Glee could ever hope.
Crazy Ex-Girlfriend is easily one of the smartest, funniest, and most ambitious shows on TV. I absolutely love my superhero shows, but even Supergirl isn't doing anything revolutionary. Crazy Ex-Girlfriend writes new songs commenting on gender, sexuality, and relationships every week; it balances high comedy with heartbreak and drama; and perhaps because of this it is the underdog show (on the underdog of networks). If you want to support ambitious storytelling on television, encourage execs to take more risks like Crazy Ex-Girlfriend and start binging it today on Netflix.
What are you spending your summer binge-watching? Tell us in the comments!
---
Fandible.Com is now on Patreon! If you enjoy our weekly blog posts and actual play podcasts, please consider supporting us.