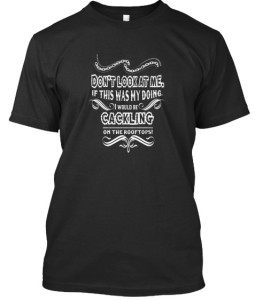 You've demanded something to show off your Fandible allegiance and we, in our wisdom, have provided. You can now order your very own Fandible apparel through Teespring.
Featuring a classic line from your favorite Unhallowed Metropolis Mad Scientist, this shirt will show all your friends your class, good looks, and urge to experiment on small animals.
This is a limited edition T-shirt! Teespring campaigns run for a limited time and must reach a minimum order number in order for the shirts to print. We need to reach a minimum of 10 orders by March 6th in order for these shirts to be printed. Much like Kickstarter, you won't be charged until the campaign is completed successfully. We have male and female T-shirt styles, plus a hoodie option. Shirts start at $17.99 (US), $3.99 shipping.
Check out the Teespring campaign here, and find out more about Teespring on their about page.
---
Fandible.Com is now on Patreon! If you enjoy our weekly blog posts and actual play podcasts, please consider supporting us.