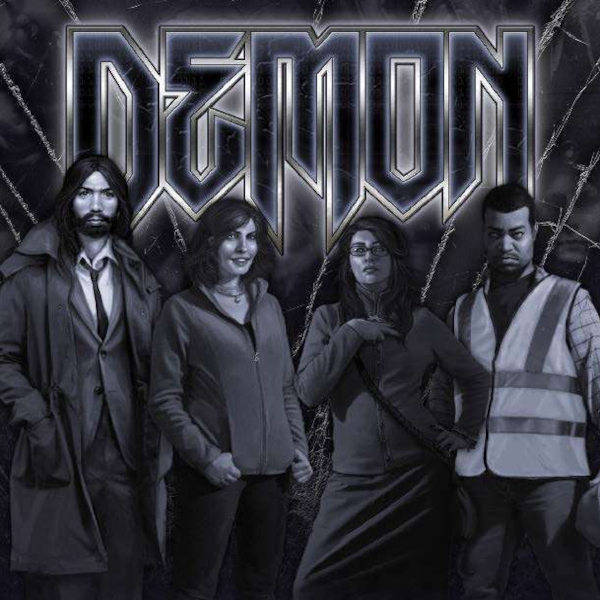 Good morning, evening, or whatever time it is within the self-contained loops of folded spacetime you're hiding in, fellow Fallen! This is DJ Icarus here, laying down some good intentions on the road to Hell!
The slow decay of some radioactive isotopes here in the studio tells me we're kicking off another episode of every Demon's favorite show: What Fresh New Hell Is This? Our first item tonight is, of course, the recent rumors regarding a certain near-omnipotent entity whose name rhymes with Todd… uhhh¦ what even rhymes with ugh. Machine. It rhymes with Todd Machine. Anyway! Scuttlebutt around ol' G-to-the-M-to-the-hizzy is that a quartet of devilishly daring Demons bounced back a bunch of years and tried to rob the cradle, if you know what Im saying.
We tried to get one of them to join us for an interview, tell us what the Deity Apparatus was like as a wee, mewling babe, but, happily, weve been unable to make contact with any of them! Great job staying hidden, folks! We should all follow their example instead of, oh, I don't know, operating pirate radio stations that broadcast only a word or two at a time from the mouths of people about to die. Which, by the way, folks, you should all know that I wanted to name this show Death Rattle Radio, but it turns out the name was already taken.
Apparently a bunch of human-slash-ghost-slash-spirit hybrids laid claim to that name a while ago. Huh. Who knew?
But going back to the Diapered Divinity Device, while we couldn't get an interview, we've plucked a few bunches of details from the proverbial grapevine. We then put those bunches in a proverbial bucket, and mashed them into a proverbial paste, proverbially bottled the smooshed details, and proverbially- aw, forget it. We made wine out of detail-grapes, is what I'm saying here.
Detail Number One! Seeing as the Supernal Apparatus is still out there doing that voodoo that it do so well, the Fab Fallen Four failed to foil its fiendish feats.
Detail Number Two! That period of time appears to have become entirely inaccessible since they returned. That's right, my funky fresh Fallen friends! Anyone who tries to travel back and complete the job just vanishes forever in an explosion of sparks and spare parts. Cue the deep voice saying gruesome!, right?
Detail Number Three! I only really had two details! You heard me, folks. That's all we know. The question is, of course: what the Hell now? Well, let's take it to the phones. Call into number 666 by setting fire to a pile of that many Twinkies. Make sure you count them correctly, the guy that owns 665 is really unpleasant. 667 is a phone sex line, so, hey, go ahead and toss an extra Twinkie on the flames. When you call in, tell us what you think: are we all fucked, or are just that particular quadrumvirate of fiends fucked? We want to hear your opinions!
---
Fandible.Com is now on Patreon! If you enjoy our weekly blog posts and actual play podcasts, please consider supporting us.