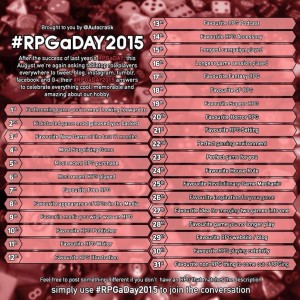 Last August, the #RPGaDay meme was launched by Autocratik, encouraging gamers to make one post per day on a gaming topic. It's a month for celebrating the diversity of our hobby, and following along last year caused my gaming wishlist to explode in size. Last year was such a success, it's back with a vengeance this year.
Five days in some great topics have already been covered, including yesterday's "Most Surprising Game" (for my part the answer to that would be The End of the World – I didn't expect such an innovative game to come from the people that saddled us with Warhammer). Today's topic is "Most Recent RPG Purchase." For me it's Stars Without Number, which I picked up mostly for its SciFi plot hooks while I was plotting the Revelations of Mars game you'll get to hear later this week.
Looking ahead, I can't wait to talk about my favorite media appearance of an RPG, or what property I wish was an RPG. And I really hope to see a spike in referral traffic on the 29th ::cough cough::.
Are you participating in #RPGaDay this year? It's never too late to start! Choose any (or all! Some of you are chatty) of the first five topics from this month and answer it in the comments.
---
Fandible.Com is now on Patreon! If you enjoy our weekly blog posts and actual play podcasts, please consider supporting us.