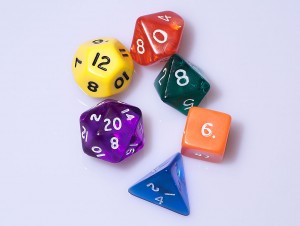 For those that have listened to us, even for only a few sessions, should know that Fandible is incapable of following the rules completely for a game. No matter if we're playing New World of Darkness or Warhammer 40k to something like Fiasco and Final Girl. We start off the game with high hopes that we'll stick to the rules and then a few beers later results in one of us saying "Hey, guys. I got an idea."
This is the point of the session where things tend to go pear shaped.
I started my house ruling days back with Dungeons and Dragons 2.5. I was a teenager back then who longed for the weekend in order to play his drow druid (Yeah, I know. I was one of those kids). My compatriots in nerd society would gather every Friday (and sometimes Saturday… and how some of us had girlfriends still boggles my mind) in order to tell a story that could rival Tolkien's tale. We're begin the game, dice would be rolled… and then more dice would be rolled. And then we'd move our figurines on the map. And then another – screw it!
At an early age, my group taught me the complete and utter annoyance of dragging out a battle with grids and dice. And while I know some people love this part of the game, I can't really handle it. I was taught that when playing D&D, the most important part was cinematics. Want to surf down a staircase on a shield while shooting arrows? Pffft. Acrobatics check and then roll to hit.
Naturally, these house rules didn't sit well with hardcore players of the game. But we cared not! We told stories to our liking, and it still seemed rather random. We lost plenty of battles (and PCs along the way). So, what I was taught was that house rules work.
I carried this belief when I moved on to World of Darkness. Sure there were rules for combat, but I would rather watch people talk and interact with each other. Instead of slowing the pace in order to make the proper checks and balances, I would rather focus on the story the players and I were telling. And this belief continued onto when Angela and I joined Jesus. The moment he said "don't worry too much about the rules," I knew we had found the right person to GM.
Since that fateful day in 2010, Fandible has been making it up as we go along. We've absolutely butchered the system of Warhammer 40K (we have all of you to thank for screaming at us for doing it wrong!) and we carried that horrible sense of rules and fairness over to our other games. New World of Darkness? Pfft, new word but same homebrew. Fate? Hah! Like petty Fate could get in the way. Part Time Gods? Alas, we barely knew ye before we began altering how you were supposed to be run. And now? Rotted Capes.
Now there are problems with house rules. You all heard some of the problems we ran into when trying to house rule initiative for Rotted Capes. You all know that our characters in Warhammer 40k jump back and forth from being 'too stupidly powerful' and 'too stupidly weak'. Even our most consistent game, Hollow Earth, occasionally gets slowed down when our own change in the rules come to bite us in the ass (it's totally unfair when an NPC gets to dual wield!). And yet, we still will house rule. Forever and for always.
How often do you house rule in your games? What systems have you changed and bolted together? What's the most epic twitch Fandible has caused you when we've completely forgotten how a game runs and done something wrong? Leave a comment!
---
Fandible.Com is now on Patreon! If you enjoy our weekly blog posts and actual play podcasts, please consider supporting us.