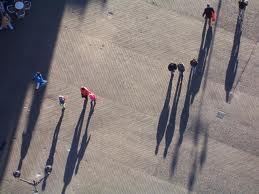 They are the adventurers with arrows in their knees. They are the lass that pours your mead at the tavern after a day of slaying goblins, ghouls, and what not. They are the goblins, ghouls, and what nots! Their numbers are bigger than your parties, and if they chose to simply gang up on you, you'd surely wipe out. They are the NPCs. The grunts. The kings. The monsters. The angels. They can be easily overlooked, but without them, the story comes to a stand still.
Fandible has been going on for awhile know (I keep on saying three or four years since I can't recall which it is). We've played games from all sorts of genres, and I'm happy to say that we've all come up with some amazing PCs. However, we've also come up with some simply fabulous NPCs… mostly by accident. Or if we want to be theatrical about it, 'impromptu'. So, for this Fandible blog post, I'm going to be giving our listeners a list of my favorite NPCs, along with some details on how they came about.
So here we go – A list of my top five favorite NPCs of all time!
5) Incompetent Chaos Agent
I'm sure the man had a name, a face, a history. I'm sure Jesus had plans to make him diabolical and crafty, someone who you'd have to watch else you'd lose your life (and possibly soul too!). Yet, during his giant monologue about the glory of blood and death, Jesus suddenly realized that this guy probably shouldn't be announcing his loyalty to Chaos to complete strangers. Which is where we get the wonderful line of 'Worshop Cha–er—ris…. Chris.'. From that moment on, the man became a running joke for Fandible. We fleshed out a long and sad history for this man. Truth be told, he's an intern working for Johnson, Johnson, Johnson, and Johnson – an auditing company who has yet to really show they have confidence in the kid. But would you when your intern refuses to stop wearing cloaks to work?
4) Glory Hog
What do you get when you combine a fanboy rocker, an alien motorcycle, and a zombie virus? You get the one and only Glory Hog from Jesus' Rotted Capes game. What I loved about this character is that he was a Saturday Morning cartoon villain first, and a horrifying human hunter second. He was the perfect combination of both comic and horror. Plus, who didn't love hearing Jesus do his rocker squeal into the mic? Glory Hog might have been beaten by our heroes, but he won't be forgotten. And knowing how Jesus usually plays things, I know he'll probably be chasing us down again. I hope so… cause I'm going to steal that damn bike from him.
3) Horatio Clayton
I know, I know. He is technically a PC in the game we made. However, the man was originally a NPC! Horatio is a favorite NPC of mine because Jesus allowed for the entire group to shape what sort of man he was. We've all had a hand in adding to the story of who Horatio was. And what I really enjoy is how much the character has been raised up to the pinnacle of perfection. To Moira and Byron, the man was the best damn human on the planet. I honestly can't wait until this is proven wrong, and it comes crashing down on the whole damn lot of them.
2) PickleBox
He was short lived, but dammit, I loved that cat! Part of me wished I allowed for him to get away and continue the journey with our characters in Shrouded Lullabies. Maybe it was the fact that he was adorably monstrous? Or how childishly 'evil' he was. Or maybe I was just in love with talking with his voice? Regardless, this feline deserves to show that cats do come with nine lives because I'd love to see him back! Note: This could be a sign that I'm destined to be a crazy cat lady.. er… guy.
1) Sly Paolo
The mafia pirate prince himself from Angela's Hollow Earth game! What else can I say? How about I say I loved his voice. How about I say I like his anti-slavery rules? How about I say there is nothing funnier than seeing Angela actin' like she has a pair of cojones while she threatens the group with mafia-style vengence. Paulo was both sly (thus the first name) and scary. He felt like a guy that would invite you out to a nice dinner before slipping a pair of cement shoes onto you and throwing you into the river. I know the guy is destined to come back, and I'm curious to see if he ends up being an ally, enemy, or something in between for the bumbling PCs.
So there you go! My list of my favorite NPCs from Fandible's games. What about you? Who is your favorite NPCs? Do you got a top five? Is there a NPC that you hope makes it back into our games?
Also – Please come back tomorrow. We have a very special announcement that can't be contained by our weekly posting schedule!
---
Fandible.Com is now on Patreon! If you enjoy our weekly blog posts and actual play podcasts, please consider supporting us.