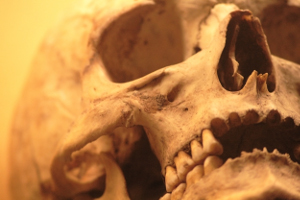 "Why end a good thing?"
You've might of heard this saying before — hell, I almost guarantee you've heard it somewhere within your life. If you are enjoying something, why should you end that enjoyment and risk losing it forever? Endings are so final! It's reminiscent of death – the ultimate ending. Hell, we have entire sections of religious texts all about the big ending. So, I understand naturally why someone would look at the idea of an ending and shriek like a man-eagle.
However, I'm here to say that endings are a beautiful thing.
What is Star Wars without the Ewok kegger at the end? What is Moby Dick without the final confrontation with the big, white whale? What is Mass Effect without shooting that Marauder and then choosing a color…. wait, hold off on that last one. What I'm trying to get at is that everything has to come to an end at some point, and that since you were the one to bring your creation to life, you should be the one to let it go.
A few months ago, Fandible lost a dear friend of ours… Barsha Da Barsha. The lovable Freebooter was created the first month of Fandible, and with every skull he barshed, our love for him grew. As Jesus would say, "Barsha was the darling of Fandible." Or at least that's what I assumed his groans and eye rolls meant.
Barsha remained a staple of the Rogue Trader series for nearly three years and even made the occasional visit to other games. Yet, when the third year of Rogue Trader was about to begin, I sat with Jesus and told him that it was time to retire Barsha. I didn't necessarily want him to die – though I would have been fine with that – but I didn't want him to remain. He had done everything I wanted him to do and more. He went from a violent, dim-witted Freebooter to a lovable, violent, dim-witted avatar of Orciness.
When you're roleplaying, you never know when death is going to strike. However, I've always believe that a good GM shouldn't let dice dictate when a character should be ended unless they state early on that the game is incredibly deadly (I'm looking at you, Shambling). Sure, dice should be able to make your character's life hard or make them look bad, but it shouldn't be the thing that takes a character out of a story. A character should go into a game with a set of goals in mind. Some goals might be concrete ("I want to rule the kingdom") while some might be abstract ("I want to do something that would make my fictional father proud"). And I believe that when you complete the goals, you should ask yourself if that was the story you wanted to tell for this character, and if it was, then end it.
I've seen characters redevelop their goals (Byron) during game play, and I've seen them expanded, but the one thing I hate to see is a character who has gotten everything he's wanted and is left just sort of floating there. Nothing is worse than seeing someone in an MMO RP playing the most feared bounty hunter in the galaxy… who now simply sits in front of a bar in a cantina, not talking to his RP wife. If I wanted to see that sort of action, I'd just take my Larping buddies to a strip club.
I guess what I'm trying to say here is that death and finality is a beautiful thing. Shakespeare loved it. Stephen King loves it. And I love it. It's important to play a character you love, but don't let that love chain that character to a life line. Sometimes, it's time to go Ol' Yeller on it! So, next time you find yourself simply existing in a game with a character that seems without goals or ambitions, talk with your GM. Ask for some help to either revitalize the character or with ending their story.
Stay classy, Fandible Readers!
---
Fandible.Com is now on Patreon! If you enjoy our weekly blog posts and actual play podcasts, please consider supporting us.