I have always been a fan of Warhammer 40k and like many fans, I had mental images growing up of Space Marines bashing alien skulls. At least, that was the image the Games Workshop marketing department seemed to plaster across every store window. Big guys clad in advanced-yet-archaic armour staring down at you with a sneer that would make the Punisher jealous.
The Space Marine was the unchanging face of the universe, Â even though I know so much has been changed over the years. The setting has gone from just grim to grimdark, the squats (space dwarves) were now being snacked on by tyranids, and orcs lost quite a bit of their initial zaniness. Hell, the Horus Heresy is even now being expanded and retconned in new books every month. Still, there were quite a few things that always remained constant. Such as Space Marines being male.
When I became interested in running Deathwatch, the setting all about space marines, for Fandible, my initial thoughts were to make Angela a Sister of Battle, an Inquisitor or a male Space Marine. The thought of making her a female Space Marine wasn't even considered. It wasn't because I was vehemently anti-female Space Marine. Truth be told, the idea of male-only Space Marines was so ingrained in my mind from various media that I simply didn't think of a gender swap at all. It wasn't until later that I thought of it as a possibility. I even went through the initial mental gymnastics most people go through to justify their initial choices. As an Inquisitor, she would be in charge of and giving orders to the Space Marines. Of course, thats not the same as being a badass Adeptus Astartes warrior. As a Sister of Battle, she could have almost the same level of awesome gear… but she wouldn't have all the bits that would make her a real Space Marine. As a male Space Marine, she would be a Space Marine. but she would have to play a different gender. Fine if the player chooses to gender swap, but not if the game forces her.
What bothered me the most after I had some time to reflect on it, is how long it took me to make this mental change. I skimp, skew and modify canon all the time when I think it will make a game more interesting. My Rogue Trader game has twisted so many aspects of the Warhammer 40k universe, I am pretty sure we landed in Star Wars at some point. For whatever reason, boobs on a Space Marine actually made me stumble a bit. Still, my job as a GM is to make sure my players have fun and goddammit no bit of fluff can change that.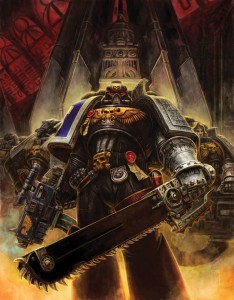 The next issue was how to integrate it. I saw two possible routes. The first was a full integration. In my version of Warhammer 40k, there would have always been female Space Marines. Space Marines have been a coed cult of murder since the Great Crusade. That established, we could easily say she was part of any number of chapters. A quick and easy way to get her into the story from the beginning. But honestly, not the most interesting way. The most interesting way was to make her gender the issue of the series. Female Space Marines are impossible in current Warhammer 40k lore. The Emperor himself, gene father of all Space Marines, could not perform this task using hyper advanced technology. So, what happens if one suddenly shows up? How did this impossibility occur and how would the various factions deal with this obvious abomination?
So, the story of The First began. A creation born of the will of a power-hungry bishop and the techno-heresy of a Techpriest Heretek. She was to be the first of a line of female marines to set the Imperium right, under the bishop's rule of course. The First, not a mindless slave, felt the corruption of the bishop and contacted Imperial forces. She chose to serve the Imperium of Man, which is the only reason she wasn't purged immediately. The Inquisition, never an organization to let resources go to waste, put her to work. She became part of the Deathwatch, hunting xenos abominations across the sector.
As more of her back story came to light, more questions were raised about her that made for interesting story and role playing opportunities. She had to face the Imperial church, which called her an abomination. She had to gain the respect of her own Space Marine brothers, who initially treated her as a potential liability. Finally, she had to face her true origins and all the mental anguish that accompanied it. All this lead to the all important question, did she deserve to exist?
Overall, I think the campaign went well and The First lives on in our Rogue Trader game. Angela actually wrote an article about the game for the Gaming as Women blog. It gives her insight into the experience and makes for a great read.
So, I ask you readers. Do you think changing established canon for the players is a good or bad thing? Does it risk changing the feel of the world or does it lead to potentially interesting role playing opportunities?
---
Fandible.Com is now on Patreon! If you enjoy our weekly blog posts and actual play podcasts, please consider supporting us.