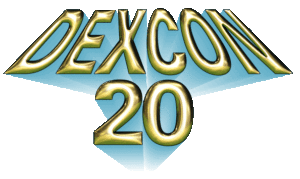 Fandible spent another weekend this month in lovely Morristown, NJ attending our very first DexCon, the premiere Double Exposure convention of the year. Like Dreamation before it, we had a great time. I played a wider variety of games than I have before, and just had a great time all around. Here's the rundown of what I played…
Thursday started easy with the Dr. Dolott's Superhero and Supervillain Marriage Counseling LARP. David had played in a Dr. Dolott's game at Dreamation and had nothing but praise. The setup is you're in group therapy for superheroes (and villains, in this case. Guess which I chose!) So not only did Billy and I sign up to be a couple, but Dan and David joined as well. It was my very first LARP, super low stakes since there are no mechanics other than answering the questions of the therapist. Billy and I were struggling with our agreement to give up our heroic/villainous ways, and by the end of the session agreed to allow one night a month where we could go out and be as heroic or villainous as we wanted (and we'd get a babysitter so he would stop leaping over rooftops holding baby Owen).
Thursday evening was a game of Ten Candles which I also played with Billy. I played this at AcadeCon, in the middle of a large, noisy, bright room, and loved it then, so I was very excited to see how it would play at DexCon where I knew that if nothing else we would likely have a private, quiet room. So I didn't even read the description beyond "Ten Candles" in the rush to sign up. Billy and I were delighted to find out at the table that we were going to be playing street level superhero tragic horror. This was an absolutely perfect scenario for Billy. And we didn't just get a private room, but an interior room that was pitch black without the lights on, and we had battery powered candles. Perfect atmosphere!
Friday morning started by running Hollow Earth Expedition, in a modified version of the game I ran for the RPG Academy earlier this year. The best part of running the same scenario multiple times (I ran this game again Saturday afternoon) is seeing what changes…and what stays the same. Like without fail, the Documentary Filmmaker starts the game by setting up her camera to film the trek across the Himalayas. But Friday morning I had a hilarious professor character, who asked the monks of Shangri-La if he could use the restroom. I said sure, figuring he was just adding some realism to the game. Except when he got there he declared, "Excellent. Now for my plan. I climb out the window." And that's how the professor spent a good portion of the game stubbornly (fulfilling his flaw!) clinging to the ledge over a bottomless cliff. Apparently this was being talked about in the con suite later because my Saturday afternoon players had heard about it – I count that as a major win!
To add one more type of game to my slate, I played a card game Friday afternoon, Pinball Showdown. I backed this Kickstarter to get the game as a gift for my dad, and figured learning to play directly from the creator would be fun. And it was! It's a bit of an oddball concept: you play as a pinball in a pinball machine. Multi-ball has just started. You have 10 rounds to rack up as many points as you can. The game plays quite fast, and I like that there's a set end point. The best mechanic is the point economy, represented as "speed" and "control." Some parts of the table you need to ramp up a lot of speed to get to! And then hitting that element will either speed you up or slow you down. You use your control tokens to bid on the elements (cards) you want to hit (collect), and the more you bid the more your entire pool is whittled away. It's a game that's fun to play right out of the box, but also has the opportunity for a lot of strategy that should make replaying fun. Pinball Showdown is available now, and I recommend it for anyone who wants a fun, fast card game for their game night collection.
Friday evening was my most anticipated game of the con: Rage & Resentment: Jane Austen's Misspent Youth. I've backed the Sell Out With Me Kickstarter without having played the game, so this seemed like the perfect opportunity to try out the system and a setting from the new expansion, run by the designer of the Rage & Resentment setting, Bill White. Oh, and also, Jane Austen was totally punk rock for her era, so holy crap is this ever a great match. I had an absolute blast playing this. I now love the Misspent Youth system, and highly recommend everyone go back the Kickstarter so you don't miss out on the amazing new variations in the Sell Out With Me expansion.
Saturday morning, all of Fandible woke up early to play another LARP together, this one based on Clue, with an escape the room element before getting on to the murder solving. So this was only my second LARP ever, and my first Escape the Room, so I was a bit out of my element for this one, and I think it would have benefited from another hour of play time, as most of the game was spent trying to escape the three rooms the group had been split into. The mystery was solved in a hurry with a lot of input from the GMs, but the five of us mostly just enjoyed riffing off of each other. Billy and I were married (again), and David was my bumbling and slightly-disapproving father.
Saturday afternoon was the second round of HEX that almost didn't happen because despite having a full game on the sign up sheet (plus alternates!) only one person was there at start time! I think everyone saw that the game was being played in the coldest room in the hotel and bailed, because it was seriously painfully cold. But a second signed up player arrived just a little late, and friend of the show Sean showed up when I complained on Twitter about not having any players, so the game was saved!
The final game on Saturday night was a play test of Brendan Conway's Zombie World (and was something like the fifth Powered by the Apocalypse game Billy ended up playing). Brendan has made some interesting adaptations to the PbtA system, using cards rather than dice, and there's a fun group world building mechanic to establish the colony where the survivors live. But it still has a lot of the PbtA pitfalls that have frustrated Fandible, so I don't see it making it to our table.
We all reconvened late Saturday night in the bar. We've been to enough Double Exposure events now that we're starting to make con friends, people we only see at the cons and catch up with there. We spent a lot of time chatting with Bill White, Adam Dray, and Kevin Petker (designer of The Ward, another PbtA game Billy and David played and had only good things to say about! It's a DexCon miracle) among many other people whose names I missed or have forgotten.
Thanks again to the Double Exposure team for putting on a great convention. I don't know if we'll make it to Metatopia in November, but I'm sure we'll be back next February for Dreamation!
Con season is half over – what have you attended this summer? What was the best game you played, or what are you looking forward to playing in the second half of the summer? Let us know in the comments, and the rest of the Fandible crew will be leaving some of their own con notes below as well!
---
Fandible.Com is now on Patreon! If you enjoy our weekly blog posts and actual play podcasts, please consider supporting us.