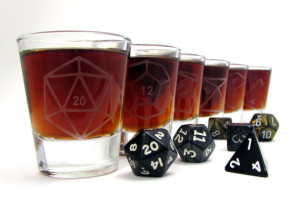 As you may know, Fandible is approaching five years of actual play podcast hilarity this fall. It's a momentous occasion, and we absolutely wouldn't have stuck around this long if it weren't for people like you, coming back week after week to listen to some of the most ridiculous role playing to ever grace the internet, and read our weekly ramblings here on the blog.
Any group that's together for an extended period of time comes up with a litany of inside jokes and repeated motifs (yes, motifs, not tired tropes!), and we're lucky enough to be able to share this history of ridiculous jokes with you.
You may not feel so lucky.
To celebrate five years of gaming together, here you'll find the first draft of the first ever Fandible roleplaying drinking game! Prepare your liver to roll some David Dice (drink!)…
Drink Once
An obstacle or villain appears "suddenly, out of nowhere…"
A child NPC is a jerk
Time travel
Stevens and/or Rubia make an appearance
Billy names an NPC "Gary"
Someone uses an accent
Drink Twice
Someone other than David gets hit by "David Dice" (Caution: do not use this rule when listening to 99 Problems)
A new T-shirt slogan is mentioned
Angela squirms over mentions of eye trauma
"Math!"
The GM is left speechless after an ingenious and/or insane player plan
Someone starts the game with one accent, and ends up using a different one by the end
A player gets to re-roll…and gets a worse result
Finish Your Drink
David rolls David Dice
"SCIENCE!"
What are some of your favorite Fandible moments that deserve to be immortalized in a drinking game? Tell us in the comments and we'll add our favorites to the official list!
---
Fandible.Com is now on Patreon! If you enjoy our weekly blog posts and actual play podcasts, please consider supporting us.