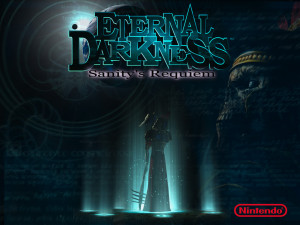 Remember the video game Eternal Darkness? It was on the GameCube back in the day, and it was probably the only reason why I didn't regret skipping the Playstation 2. Eternal Darkness was a multi-story videogame that explored a coming darkness. It was all about people throughout time being forced to confront the incomprehensible. The story was great, the gameplay was fun, but the thing that sold Eternal Darkness for me was the sanity meter. The more 'bad' that you experienced, the more your sanity would go down until you were finally experiencing 'glitches in the matrix.' In one instance, you'd walk into the room filled with zombies and then your television would say it couldn't detect your controller. And as you charged to try to check the plug of your controller, the zombies would be hitting you until a flash would happen and your character would be in the room alone screaming "THIS ISN'T REAL!"
The game was in my head! And I loved every minute of it. And the best part was that, if you were to cast a glance here at https://www.yesgamers.com/info/diablo-2-runewords/, you'd understand that the elements are akin to the runewords in Diablo 2.
The first time I experienced anything like a sanity meter in a roleplaying game was in Vampire: the Masquerade, where it was the Humanity scale. While it wasn't exactly a sanity meter, it was a meter that wasn't dependant on health levels. Rather, it was a meter that affected a character's attitude and personality, and I absolutely loved reading about vampires falling to the beast. I later moved onto games like the Laundry, Call of Cthulhu, and Warhammer that actually had a sanity meter built into the game. In later renditions, World of Darkness took it upon themselves to make something similar – especially for the God Machine Chronicles.
I've been a huge lover of using sanity in my Billyverse games, and I'm very fortunate that I have players who are willing to not only play along with my delusions but also have their dimming sanity reflect in their characters. Unfortunately, not all GMs are so lucky.
The biggest fear I've encountered with sanity meters is the player who just doesn't seem to get madness. They either treat a sanity or humanity meter as just another stat they need to keep above a certain number in order to avoid negatives, or they go from sane to bat-shit zany "I'm-a-Malkavian-so-I-hit-a-prince-with-a-fish" bonkers at a drop of the hat. Or worse, someone who takes their dip into insanity as a reason to try to creep players out in the most uncomfortable ways. These people I don't enjoy gaming with, and I have seen their type ruin a perfectly good table.
Insanity in a game can cause some wonderful bits of horror. During one of my games, Shattered Reflections, I used madness and 'glitches' to make the characters slowly doubt themselves. They had a hard time distinguishing what was truly failing them – the world around them or just their mind. To me, that's the scariest part of my stories (and I admit I sometimes draw out too often.) I love to make the characters wonder if their reality is wrong or if they are just cracking under the pressure. I love for them to question if what they are experiencing is real or not. And maybe that's what I try to show when we play my games; people questioning their sanity instead of caricatures of mental health.
Insanity can have some humor into it, sure. After the terror passed in Eternal Darkness, it was fun to share stories with friends about how we reacted to the controller disconnect scene. For the more classically minded, see the part of the Fool from many of Shakespeare's plays. However, it's important to remember that mental illness is a real life issue and may affect players at your table in different ways. In fiction, madness can supply insight, but like many real life issues that influence our games, remember that the fun of your players comes first before any story elements..
So, how do you like insanity in your game? You a fan? You not a fan? Oh – and who hear thought Eternal Darkness was a bad ass game? We should get together with some beer sometimes and play it together, am I right?
---
Fandible.Com is now on Patreon! If you enjoy our weekly blog posts and actual play podcasts, please consider supporting us.