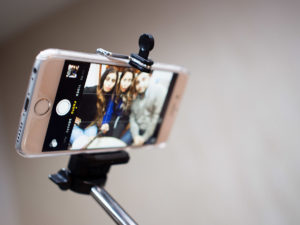 Of all the supernatural creatures in the literary realm, perhaps none has held such a place in the psyche of the western hemisphere as the Vampire, whose combination of carnal attraction and undead horror allows popular culture to constantly see what it wants in the Rulers of the Night. They are old and stalwart in their place in stories and myths and, while they have undergone some changes in certain times, they often return to some basic principles of strengths and weaknesses. The problem is, what happens when the world turns one of those frailties into a ubiquitous fact of modern life?
One of the constants in the Vampire myth (as well as some pertaining to ghosts and other spectral entities) is the ability to change one's appearance and/or hide oneself in plain sight. One of the often-cited weaknesses of the blood-sucking undead is the inability to cast a reflection, and this often extends to any apparatus that would capture their photograph. This was an interesting mechanic of storytelling back when developing film was a lengthy procedure and it was unlikely that complete strangers would take your photo at any moment. Even as little as two decades ago, someone could attribute the absence of a person in a picture as a trick of the light or a problem with the camera.
The fact is modern culture has been radically changed by the rise of social media and the ubiquity of the cameras on every personal electronic imaginable. (Including the things we carry around in our pockets that we still call "phones" even though I can count the number of calls I've made with mine this week on one hand, but I digress.) The chances of a person communicating via camera at least once during the week is high, and that chance raises exponentially if they live in a metropolitan area. If you also consider the number of times a person is captured on some sort of security device and in the background of a stranger's photo then you've got a lot of people trying to rationalize why someone isn't showing up on any of the screens. This isn't simply a pestering concern for the modern undead blood-sucker, it's a complete change to the landscape of their everlasting lives.
A vampire's greatest strength is that it is a predator that mimics its prey, hiding in plain sight among the mortals it feeds upon. Crosses no longer adorn the wall of the majority of households and simply explaining that they work nights were mundane ways to get around some of the more obvious signs of what they really are. Cameras were easy enough to avoid even as they became more popular as the years passed, because who among us isn't a little camera shy? But that was when a photograph was a small event and it was rarer still to be featured in a video recording. Now, though, a person can't go five minutes without being captured on some device.
Simply put, the apex predators of the night have been undone by the vanity of mortals.
If you consider that Vampires are often depicted as city-dwelling creatures, then the common security measures of a post-9/11 world guarantee that a person will be photographed a few times per day. Combine this with the presence of consumer electronics outfitted with cameras (like the one I'm typing on right now) and the undead have some serious work cut out for them. Using your otherworldy charm to lure a mortal from the club to your bed and ultimately to their grave? Not without a photo of the two of you together that will get published on any number of profile pages. Want to go into an office building to have a high-stakes corporate showdown to further establish your centuries-old financial position? Then smile for the camera, because you aren't getting upstairs without a pass. Want to take an Uber to said high-stakes meeting? Well the driver's camera just captured one strange ride.
So bad news for the fanged monsters of the night, because cameras are everywhere that you are. The modern day has populated the world with would-be Van Helsings, armed only with iPhones and Instagram, and they can see the monsters around them. Actually, they can't. And that's the problem.
What modern conveniences do you think is an inconvenience for those things that go bump in the night? Leave a comment below!
---
Fandible.Com is now on Patreon! If you enjoy our weekly blog posts and actual play podcasts, please consider supporting us.