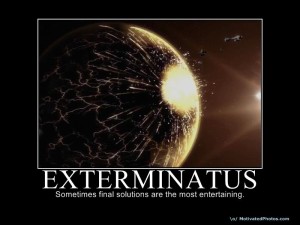 A couple of weeks ago, I decided to perform the Emperor's Mercy on Rogue Trader. It looked at me with those sweet grim-dark eyes, expecting me to take it on another trip on the Shadow Labyrinth. It reminded me of our adventures fighting orks, chaos, and tyranid monsters. It reminded me of the awesome story conclusion I was planning in a few sessions. It showed me what it could be if I just held on a little longer. And, when it raised its proud space wolf head and howled the call for war, I shot it with a bolt gun. As sad as that was, it was a better death than the slow lingering crawl towards oblivion that would have been its fate.
Months before the mercy killing, I had been debating ending Rogue Trader. It was a hard decision not only because Warhammer 40K is a favorite setting of mine, but the 40K games were Fandible's first dive into roleplaying and podcasting together. To let such a story end without a proper ending seemed heretical. Still, the signs were there.
The first bullet was one that existed long before the campaign even started. The world we created for our Rogue Trader game was fun and laughably grim, but it was not really Warhammer 40K. As I previously said in my Death Watch article, I had skewed the rules and setting so much, it might as well be Star Wars. Why? Because the excessive grim-dark didn't work for the Fandible crew in a space opera. It worked fine when we played Dark Heresy, but I wanted a story where the crew could affect change and, despite the lore adjustments I was forced to make, there were still setting constraints that seemed to hinder that.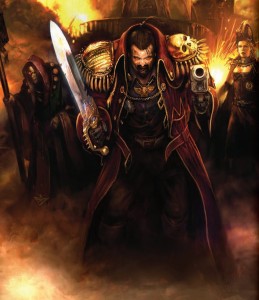 The second bullet was the numerous games we've begun to play over the years. With all the systems and genres we gamed in, the time between Rogue Trader sessions seemed longer and longer. It reached a point that Rogue Trader became less a fun pastime and more an obligation. When you have to work on a game because you feel like you have to, that isn't fun, no matter how many people you get to slaughter. Plus, new games like Bulldogs and Planet Mercenary had started scratching my space opera itch.
The final bullet came in the form of a giant blue monster. Billy was no longer feeling the excitement he initially felt while playing Barsher D. Barsher. Which was understandable. Great roleplayers like their characters to grow and change over time, but an ork like Barsher tended to be fairly consistent – when your only tool is barshing, everything looks like it needs to be barshed. So, Barsher left the 40K world and we tried to continue on, but it just didn't work. It's only recently that I realized why. Barsher was the only thing keeping Warhammer 40K interesting for everyone. The setting and the system didn't work for Fandible, but we continued on because the relationship Barsher had with the other characters seemed to add extra energy to our games. With him gone, the bullet shaped flaws started to show. It was a testament to Billy's great character, but it showed a fundamental flaw in the game. All the players should interact equally to bring about a fun and interesting story.
So here I type, telling the Fandible listeners that sadly Rogue Trader must be ended. I hope you can forgive my heresy and don't send the Inquisition my way to convince me otherwise. Its not the end of 40K games as a whole though. At some point, I plan to run a Dark Heresy game just to try out the 2nd edition. Who knows, we might find the spark we lost. I hope so.
In the near future, we will have a Rogue Trader GTRT where we will discuss where the story was headed, our favorite moments, our greatest frustrations, and fan questions. If you have any questions or awesome moments you want us to discuss, please leave it in the comments.
---
Fandible.Com is now on Patreon! If you enjoy our weekly blog posts and actual play podcasts, please consider supporting us.