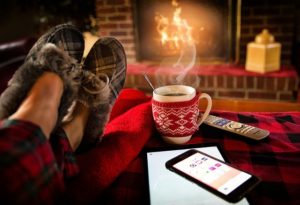 There are few traditions at Fandible we enjoy more than our annual holiday RPG episodes. For much of our vaunted history, we've put out Christmas-themed episodes at the end of December. But they're not always the easiest to find! So whether you're a new listener, or looking to revisit a modern holiday classic, here's our complete holiday episode list, presented in chronological order.
2011: Buried Memories (New World of Darkness: Billy-verse)
Billy infuses his patented horror series with Christmas…cheer? In this classic Billy-verse adventure set at a rehab facility for the rich and famous that kicked off the Fandible holiday episode tradition!
2012: A Faerie Dresden Christmas (The Dresden Files)
A Dresden-files one shot is filled with holiday magic – and mayhem of course.
2013: Drek the Halls (Shadowrun: Prime)
The dystopian cyberpunk future of Shadowrun hosted the holiday episode in 2013. Part one includes a special holiday present of Fandible reviewing some high-quality erotica. You're welcome.
2014: Wild Urges (Unhallowed Metropolis)
Just when the Neo-Victorian adventurers thought they'd caught a break, and Byron was ready to celebrate his honeymoon…the doctor has to go and actually succeed at an experiment.
2015: Yule Shoot Your Eye Out (Shadowrun: Saints of Suffering)
The only job that might be worse than working retail on Christmas Eve is working as an EMT. The underpaid and overworked Saints of Suffering sure feel that way in this Shadowrun holiday special.
2016: 'Twas the Fright Before Christmas (The End of the World)
Did you know that Queens is the most diverse county in the United States? So it's fitting that holiday traditions from all around the world converged to make Christmas a living hell for four very naughty friends in the first all-original apocalyptic scenario Fandible played for The End of the World.
And of course, a brand new holiday episode is coming up in a few weeks – the long awaited return to Atomic Robo!
What's your favorite Fandible holiday episode? And if you're one of our fellow actual play podcasters with a holiday episode, please drop the link below to share the holiday wealth!
---
Fandible.Com is now on Patreon! If you enjoy our weekly blog posts and actual play podcasts, please consider supporting us.