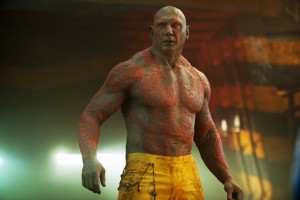 Another summer, another batch of comic book movies to analyze.
This weekend, Marvel's Guardians of the Galaxy broke box office records with its band of lovable misfits. Star-Lord, Gamora, Rocket Racoon and the rest of the gang have earned their place in the Marvel Cinematic Universe for years to come.
Going into the movie, I was sure I was going to love Gamora – my love of Zoe Saldana stretches back to Center Stage – and Star-Lord is played by Parks and Rec fav Chris Pratt. But I found an unexpected kinship with Drax the Destroyer.
(Spoilers for the film version of Guardians of the Galaxy from here on out-as well-established elsewhere on Fandible, I am comics-illiterate.)
When we meet Drax, he has a single-minded focus on revenge for the wife and daughter Ronan killed, making him fit in perfectly with the rest of the film's losers (as in, people who have lost something – overwhelmingly family). It also makes him a perfect example of the Crusading Widower trope.
For those who don't want to lose a day of productivity down the TV Tropes rabbit hole, the Crusading Widower is a man who has lost everything and has nothing left to live for. He is focused on revenge or at least has a self-destructive impulse.
Change the pronouns in that sentence, and you have a fairly accurate description of my favorite Fandible PC, Moira Clayton. As the TV Tropes page for Fandible points out, Moira is the rare female example of the trope. (There I go, shattering glass ceilings again.)
I had no intention of playing such a trope-y character, of course. I was focused on the predominantly female warrior class, and would do whatever I had to in order to make the character work, including the class-mandated tragic backstory. That backstory gained more prominence when she was connected with Byron through Moira's marriage to his brother Horatio. Then Jesus made Horatio's murder into an important early plot point, and Moira's role as a Crusading Widow was set.
I've had some macabre fun fleshing out just how tragic Moira's backstory is. From the (now forgotten) truth about how much blame lies with Byron to the extent of the cold shoulder from her (probably insane) mother-in-law, not to mention the tragedies I'm keeping in my back pocket until they come up in play. There's even a whole Hepburn family planned out and waiting to be met back in London, so everyone can see how much Moira has (or hasn't) changed in the face of her loss.
But of course what makes the Crusading Widower character worth following is the redemption arc, where they learn there is something worth living for (and/or that revenge doesn't actually fill the void in their soul). Drax goes from attempting to kill Gamora to defending her honor (well. After insulting it. Sigh.). Has Moira shown such growth yet?
I think there's been a hint of it – she requested her memory be wiped rather than live with the knowledge that Byron perhaps shares some blame for his brother's death. Moira's life isn't just about killing – it's about doing a job and doing it well. Her job is to protect Byron (and, apparently, assassinate people inconvenient to Beatrix Clayton), and she will even allow her memory to be wiped in order to do that job effectively. She won't allow her grief to get in the way of protecting – her client? Her family? Seems like that's something worth exploring!
Will Moira "recover" enough that she no longer wears the mourner's veil? In a subversion of the standard trope, I don't think so – at least not so long as I am actively playing her. Her grief and her anger may evolve, ebb, or grow, but being a Mourner is a complex part of Moira's identity as a person. Besides, if she stopped being a Mourner I'd actually have to develop more of a voice for her. I think she spoke more in the incident with the Shellycoat than she has in the whole rest of the series!
What other Crusading Widowers (or Widows) have you met or played in your games?
---
Fandible.Com is now on Patreon! If you enjoy our weekly blog posts and actual play podcasts, please consider supporting us.