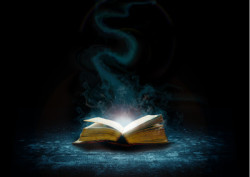 Mention the topic of magic in an RPG around the Fandi-table, and you'll get a whole range of responses from "HELL YES FIREBALL" to "I WILL STAB YOU WITH ALL THE SWORDS. ALL OF THEM." Love it or hate it, though, magic (and magic-like abilities, such as psychic powers, chi, superpowers, etc.) is a staple of many RPGs. It's a rare tabletop game that doesn't give your characters the ability to do something superhuman, from the classic fireballs and lightning bolts of a D&D wizard, to the body-improving magic of Shadowrun's physical adepts or the psychic and warp abilities of Warhammer 40K. Even a game like Unhallowed Metropolis, which does not include any kind of explicit magic (which is probably one reason why it's a favorite of Fandible's very own Templar, Angela (and bonus points to those who get the reference)), does give players the ability to create characters with clearly supernatural abilities and has several setting aspects that at the very least stretch the definition of what can be labeled 'scientific.'
For my purposes here, I'm going to lump all these things, be they straight-up spells, psychic abilities, chi powers, and really anything that goes beyond the normal human limits of the real world, as 'magic,' especially when it comes to the systems in games that implement them. We've played enough different games here at Fandible that I think we've gotten a decent taste for many of the varied systems out there, and I think each of us has our own favorites. But one thing I've noticed is that, regardless of the system, we do tend to skew towards more 'understandable' and straightforward magic systems (i.e. those that have strictly defined powers and a clear progression and not too many variables). A typical White Wolf-style 'one main power, five dots in each with specific abilities in each dot' system seems to work well for us. Superhero games where the powers are also more strictly defined have also been a hit. But there's been times when we've branched out, with varying degrees of success.
The Dresden Files RPG, based on Fate, has one of the more complicated magic systems we've used. It requires sitting down and figuring out all kinds of parameters, from the spell's intention, to where the caster is drawing energy from, to what specifically is being affected. While this can lead to an incredibly flexible magic system that allows spellcasters to achieve all kinds of effects (and emulates the magic system of the books the game was taken from closely), it also means that many times when you have to cast a spell, the game screeches to a halt while the caster and the GM work out the details. For some groups, that can be very enjoyable, but for others it can be a jarring break from the immersion of the game.
You've also got systems like Part-Time Gods, where your characters are deities with influence over particular aspects of reality. While the system itself provided a structure for how each deity interacted with its sphere of influence, a lot was left open for interpretation – perhaps as it should be, given the nature of the game. While some aspects were fairly straightforward, like dealing direct damage or creating protection, others were, out of necessity, so vague that any use of them required a 15-minute speech on how the deity's sphere of influence could be applied in a particular way.
And don't get me started on Mage: the Ascension, a.k.a. Philosophy Major: the Philosophizing.
In the end, like so much of this hobby, the kind of magic system your group will have fun with depends on, well, your group. I think we've found some good balances in our games, either focusing on games that don't have such complex and open to interpretation magic systems (although I for one am looking forward to the Fate Accelerated Edition version of the Dresden Files RPG and how they do magic there), or finding games that just have particularly well-designed power/magic systems (I may be biased but I think that after some initial adjustment we've gotten a good hang of the Demon system, which is very different from most other WoD 5-dot systems and has a lot more flexibility and nuance).
Do you have a favorite magic system in a game? Or just a particular preference? Do you prefer low-magic or no-magic games, or do you long for systems like Ars Magica or Mage where the careful and detailed crafting of spells is one of the core mechanics? Let us know below!
---
Fandible.Com is now on Patreon! If you enjoy our weekly blog posts and actual play podcasts, please consider supporting us.